Finsterforst merchandise!
Sunday, 5th of October 2014
You got robbed and the hipsters took all your clothes? You moved to a new house and your girlfriend packed everything except your favorite Finsterforst CD's? You don't know what your Grandma wants for Christmas, but you definitely don't wanna go for another picker arm? You just need to throw more money at bands after Jari got his studio? Whatever the reason, here's the new place to go and waste your hard-earned money!
Finsterforst merch!
Kaos over Europe Tour Trailer
Tuesday, 8th of April 2014
Wooden friends! As our first European tour is starting next week, check out this new awesome Tour Trailer!
Kaos over Europe Tour 2014
With
Finsterforst
,
Cryptic Forest
and
Trollfest
:
18.04. DE - K17, Berlin
19.04. DE - From Hell, Erfurt
20.04. NL - Little Devil, Tilburg
21.04. UK - Underworld, London
22.04. FR - Glazart, Paris
23.04. FR - Connexion, Toulouse
24.04. CH - Z7, Pratteln
25.04. DE - Rock It, Aalen
26.04. DE - Ragnarök Festival, Lichtenfels*
27.04. IT - Rock'n'Roll Arena, Romagnano Sesia
28.04. DE - Backstage, München
29.04. AT - Escape Metalcorner, Wien
30.04. DE - New Evil Music Festival, Darmstadt
01.05. DE - Grosse Freiheit, Hamburg
02.05. BE - B52 Music Club, Eernegem
03.05. DE - Helvete, Oberhausen
*Ragnarök: Without Cryptic Forest
European tour announced!
Friday, 10th of January 2014
Fellow Haxians! Great news!


We'll be on the European "Trolls in the forest" tour together with TrollfesT and Cryptic Forest!

Check this ultra shit out! Delightful, isn't it?!
The tour dates are as follows:
18.04. K17, Berlin (DE)
19.04. From Hell, Erfurt (DE)
20.04. Little Devil, Tilburg (NL)
21.04. Underworld, London (UK)
22.04. Glazart, Paris (FR)
23.04. Connexion, Tolouse (FR)
24.04. Mini-Z7, Pratteln (CH)
25.04. Rock It, Aalen (DE)
26.04. Ragnarök, Lichtenfels (DE)
27.04. Rock'n'Roll Arena, Romagnano Sesia (IT)
28.04. Backstage, München (DE)
29.04. Escape Metalcorner, Wien (AT)
30.04. New Evil Music Festival, Darmstadt (DE)
01.05. Große Freiheit, Hamburg (DE)
02.05. B52 Music Club, Eernegem (BE)
03.05. Helvete, Oberhausen (DE)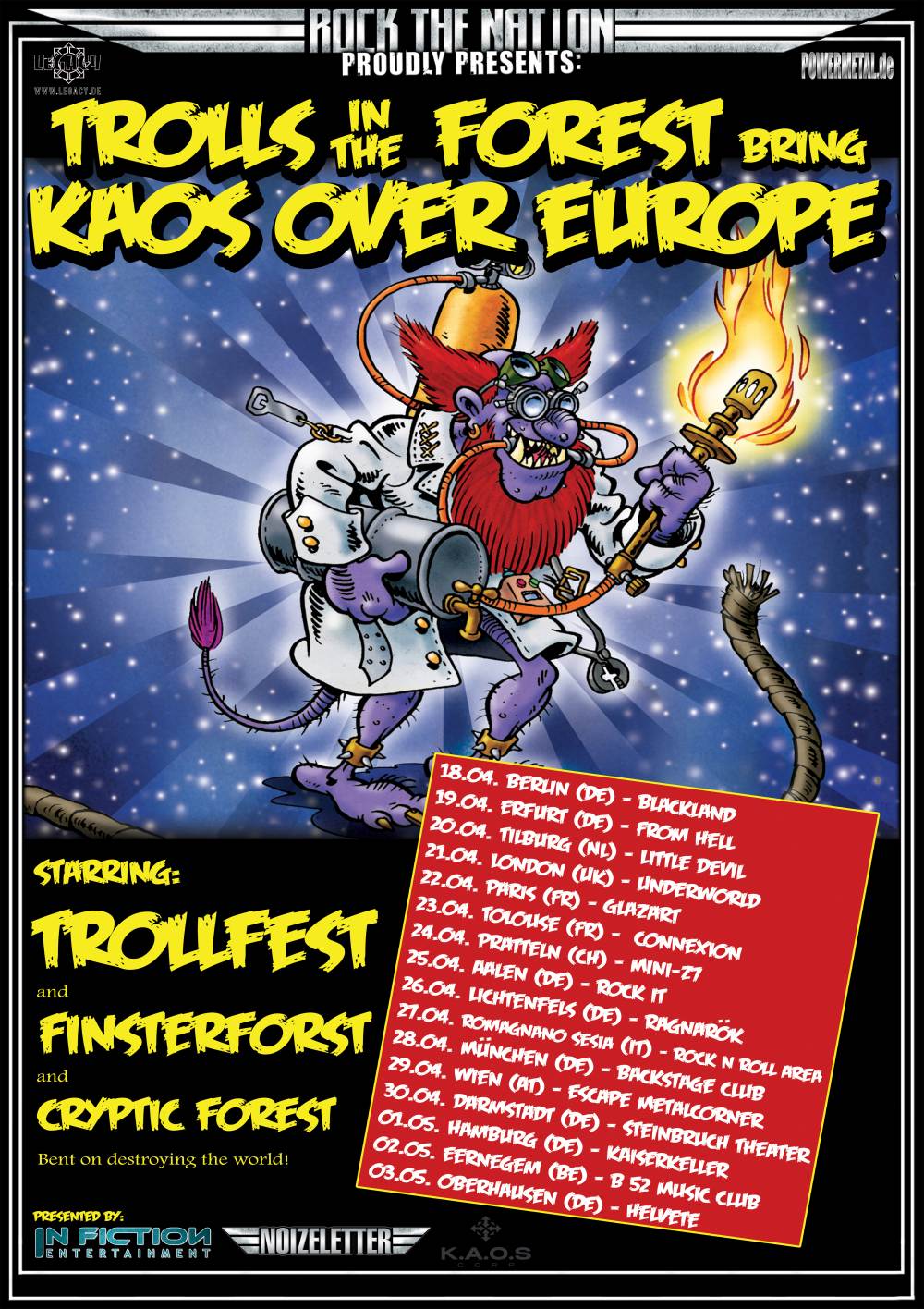 « previous page
next page »